Adjustable Center Variable Speed Pulley Drives Interchange to Lenze Pulley
Speed Variation Ratio – 1 : 3
0.25 KW TO 18.5 KW
The spring loaded pulley is mounted on the shaft of the electric motor which is firmly fixed on the motor slide base or swinging base plate and moved towards or away from the fixed diameter pulley when in operation.
As the centre distance changes, the variable speed belt is pulled in or out between the two flanges of the spring loaded pulley, thus changing the effective running diameter of the pulley and the speed variation is achieved of the fixed diameter pulley.
The speed variation ratio achieved is 1:3 and in combination with fixed diameter pulleys of various diameters, practically full middle speed range is covered.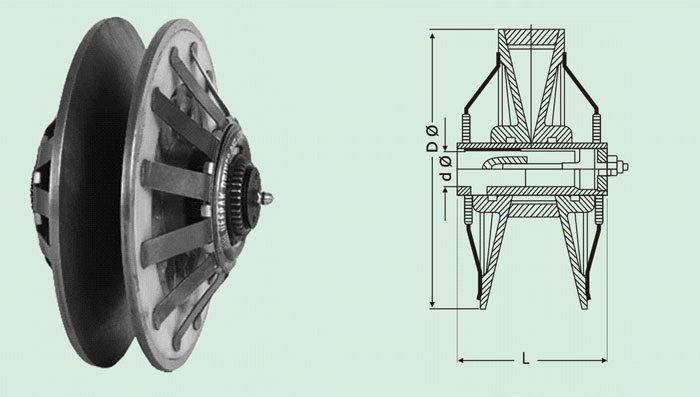 This drive comprises of :-
Spring Loaded Pulley
Fixed Diameter Pulley
Variable Speed Belt
Motor Slide Base
How To Select
While selecting the drive, the following parameters are essential.
Known -
Motor Power and Speed
Driven speed requirement of both maximum and minimum speeds.
Approximate centre distances between Motor shaft and machine/ Gear box to suit space condition.
To Find -
Spring Loaded Pulley Size
Motor slide base size
Fixed pulley diameter
Variable speed belt length
Process -
Step 1 - Select the table according to the motor power & speed.
Step 2 - Suitable spring loaded pulley and motor slide base sizes have been specified in the table.
Step 3 - Select the fixed pulley diameter according to the required output speed range.
Step 4 - Select the suitable belt length, according to the minimum centre distance between Motor shaft and machine or Gear box shaft.
Power : 0.25/0.37 KW at 1440 RPM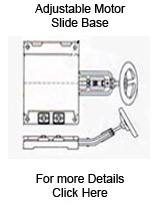 Motor RPM
OUTPUT SPEED RANGE
1440
1906-657
1704-587
1540-531
1380-476
1241-428
1111-383
975-337
870-300
784-271
702-242
630-217
564-194
502-173
Fixed Diameter
Pulley Ø (D)
88
98
108
120
133
148
168
188
208
232
258
288
323
Belt Internal
Length LI
Minimum Center Distance between Motor & Gear Box / Machine Shaft ( C )
600
161
154
146
137
650
186
179
171
162
151
700
211
204
196
187
176
164
760
241
234
226
217
206
194
178
810
266
259
251
242
231
219
203
186
860
291
284
276
267
257
246
228
211
193
910
316
309
301
292
281
269
253
236
219
197
960
341
334
326
317
307
294
278
261
244
223
199
1010
366
359
351
342
332
319
303
286
269
248
224
1070
396
389
381
372
362
349
333
316
299
278
255
227
1140
431
424
416
407
397
384
368
351
334
313
290
263
1170
446
439
431
422
412
399
383
366
350
329
306
278
246
1270
497
489
481
472
462
449
433
417
400
379
356
329
296
1320
521
514
506
497
487
475
458
442
425
404
381
355
322
1420
572
564
556
547
537
525
508
492
475
455
432
405
373
1520
622
614
606
597
587
575
558
542
525
505
482
456
424
1650
687
679
671
662
652
640
623
607
590
570
548
521
490
Power : 0.55/0.75 KW at 1440 RPM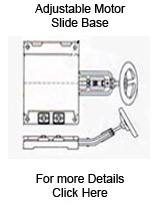 Motor RPM
OUTPUT SPEED RANGE
1440
2494-853
2018-690
1810-619
1628-557
1459-499
1281-438
1142-391
1030-352
922-314
827-283
740-253
659-226
586-200
Fixed Diameter
Pulley Ø (D)
88
108
120
133
148
168
188
208
232
258
288
323
363
Belt Internal
Length LI
Minimum Center Distance between Motor & Gear Box/ Machine Shaft ( C)
960
315
300
291
281
270
254
238
221
1010
340
325
316
306
295
279
263
246
226
1070
370
355
346
336
325
309
293
276
256
233
1140
405
390
381
371
360
344
328
311
291
269
242
1220
445
430
421
411
400
384
368
351
331
309
282
1270
470
455
446
436
425
409
393
376
356
334
308
276
1320
495
480
471
461
450
434
418
402
382
359
333
302
1420
545
530
521
511
500
484
468
452
432
410
384
352
316
1520
595
580
571
561
550
534
518
502
482
460
434
403
367
1650
661
645
636
626
615
599
583
567
547
525
499
469
433
Power : 1.1/1.5 KW at 1440 RPM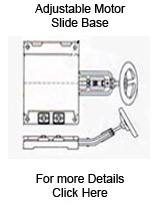 Motor RPM
OUTPUT SPEED RANGE
1440
1951-846
1750-759
1538-667
1450-629
1371-595
1238-537
1108-480
994-431
890-386
793-344
705-30
626-272
557-242
Fixed Diameter
Pulley Ø (D)
135
150
170
180
190
210
234
260
290
325
365
410
460
Belt Internal
Length Li
Minimum Center Distance between Motor & Gear Box / Machine Shaft (C)
810
184
910
234
223
208
200
960
259
248
233
225
217
1010
284
273
258
250
242
226
1070
314
303
288
280
272
256
237
1140
349
338
323
315
307
291
272
250
1220
389
378
363
355
347
331
312
290
264
1270
414
403
388
380
372
356
337
315
289
1320
439
428
413
405
397
381
362
340
315
284
1420
489
478
463
455
447
431
412
390
365
334
299
1520
539
528
513
505
497
481
462
440
415
385
349
1620
590
578
563
555
547
531
512
490
465
435
400
359
1730
645
633
618
610
602
586
567
546
520
491
456
415
369
1830
695
683
668
660
652
636
617
596
571
541
506
466
420
Power : 2.2/3.7 KW at 1440 RPM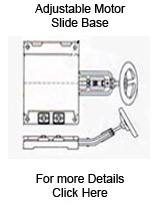 Motor RPM
OUTPUT SPEED RANGE
1440
2123-900
1873-792
1671-707
1509-638
1451-615
1350-571
1213-514
1088-460
970-411
865-365
766-324
681-289
614-260
fixed Diameter
Pulley Ø(D)
153
173
193
213
221
237
263
293
328
368
413
463
513
Belt Internal
Length Li
Minimum Center Distance between Motor & Gear Box / Machine Shaft( C)
1010
247
232
217
1070
277
262
247
232
1140
312
297
282
267
261
-
1220
352
337
322
307
301
288
267
1290
387
372
357
342
336
323
302
1420
452
438
422
407
401
388
367
343
313
1520
503
488
472
457
451
438
417
393
363
329
1650
568
553
538
522
516
503
482
458
429
394
354
1730
608
593
578
562
556
543
522
498
469
435
395
1900
693
678
663
647
641
628
607
583
554
520
481
436
2060
773
758
743
727
721
708
688
663
634
600
562
517
471
2280
883
868
853
837
831
818
798
773
745
711
672
629
584
Power : 3.7 KW at 1440 RPM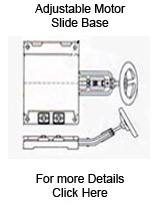 Motor RPM
1440
OUTPUT SPEED RANGE
2561-102/
2254-903
2013-806
1850-728
1748-700
1625-651
1461-586
1309-525
1168-46i
1039-41
922-369
820-329
740-296
Fixed Diameter
Pulley Ø( D )
153
173
193
213
221
237
263
293
328
368
413
463
513
Belt Internal
Length Li
Minimum Center Distance between Motor & Gear Box / Machine Shaft( C )
1140
273
259
1220
313
299
285
1290
349
335
320
306
309
288
1420
414
400
385
371
365
353
333
309
1520
465
450
436
421
415
403
383
359
330
1650
530
515
501
486
478
468
448
424
395
362
1730
570
556
541
526
520
508
488
464
436
402
364
1900
655
641
626
611
605
593
573
549
521
488
449
2060
736
721
706
691
685
673
653
629
601
568
530
487
442
2280
846
831
816
801
795
783
763
739
711
678
640
597
553
Power : 5.5/7.5/9.3 KW at 1440 RPM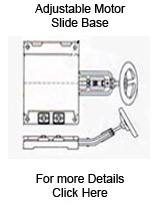 Motor RPM
OUTPUT SPEED RANGE
1440
2093-838
1875-751
1686-675
1510-605
1348-539-
1199-480
1067-427
950-380
856-343
765-307
FIxed Diameter
Pulley Ø ( D )
214
238
264
294
329
369
414
464
514
574
Belt Internal
Length Li
Minimum Center Distance between Motor & Gear Box / Machine Shaft( C )
1250
259
1290
279
262
1420
344
327
308
1520
395
377
358
335
1650
460
442
423
400
372
1730
500
482
463
440
412
380
1830
550
532
513
490
462
430
392
2060
665
647
628
605
577
545
508
465
2280
774
758
738
715
687
655
618
576
533
480
Power : 11/15 KW at 1440 RPM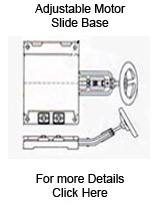 Motor RPM
OUTPUT SPEED RANGE
1440
1740-714
1550-637
1378-567
1225-504
1093-449
983-406
881-362
785-323
698-287 / 621-255
Fixed Diamete
Pulley Ø ( D )
298
333
373
418
468
518
578
648
728
818
Belt Internal
Length Li
Minimum Center Distance between Motor & Gear Box / Machine Shaft( C )
2060
569
542
511
475
2280
679
652
621
585
544
502
2440
759
732
701
665
624
583
531
2840
959
933
901
865
825
783
732
671
599
3050
1065
1038
1006
970
930
889
838
778
707
625
3300
1190
1163
1131
1095
1055
1014
963
903
832
750
3660
1370
1343
1311
1275
1235
1194
1144
1084
1013
933
Power : 18.5 KW at 1440 RPM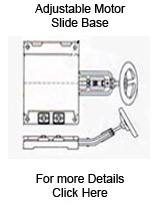 Motor RPM
OUTPUT SPEED RANGE
1440
1806-812
1610-725
1435-644
1275-575
1138-512
1025-462
917-412
817-367
725-326
645-291
Fixed Diameter
Pulley Ø ( D )
298
333
373
418
468
518
578
648
728
818
Belt Internal
Length Li
Minimum Center Distance between Motor & Gear Box / Machine Shaft( C )
2060
557
530
499
464
2280
667
640
609
574
533
491
2670
862
836
804
769
728
687
636
2840
947
921
889
854
813
772
721
661
589
3050
1052
1026
994
959
919
877
827
767
697
615
3300
1177
1151
1119
1084
1044
1003
952
892
822
740
3660
1358
1331
1299
1264
1224
1183
1133
1073
1003
923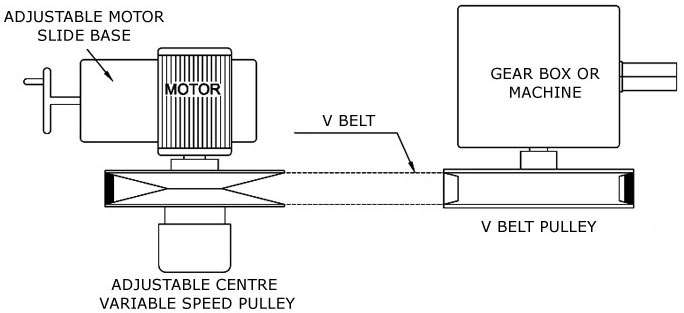 Manufacturer and Exporter of Mechanical Variable Speed Pulley Drives, Stepless Variable Speed Belt Drives, Variable Speed Belts, Variable Speed Drive for flameproof / explosive areas. We also design & manufacture custom built drives & pulleys as per customer's requirements, Adjustable Center Variable Speed Pulley Drives interchange to Lenze, Fixed Center Variable Speed Pulley Drives (FC Series) - Interchange to Lenze, Asymmetric Variable Speed Belt Drives Interchange to BECKER / BERGES, Adjustable Center Variable Speed Pulley Drives With Diaphragm Springs, Adjustable Motor Slide Base, Adjustable Center Variable Speed Drive For Standard 'V' Belts, Variable Speed Fixed Center Drive For Standard 'V' Section Belts, Variable Speed Pulley for Heidelberg Printing Machine, T.B. Woods Variable Speed Pulley, Berges Type RF b & Fsb, Variable Speed Pulley Drive for Tablet Compression Machine, Variable Speed Pulley drives for GTO / MO Printing machines, Variable Speed Pulley for MBO & Stahl Folding Machines, Mechanical Variator For AMADA Bandsaw Machine Interchange to MIKI, PIV Mechanical Variable speed gear box, PIV Mechanical Variable Speed Drive